Snag It
Would you like your favorite coffee for half price? Snag It is a mobile guide to discover promotions around you.
We've worked with small startups, local agencies, middle-size studios and established brands in tech industry. We helped them shape their ideas, do frontend development and define perfect user experience.
Product Branches
I divided Snag It into two product branches: Merchants and Customers.
Snag It Merchants is powerful management system that let business owners setup their deals, track statistics, create campaigns and much more.
Snag It Customers is for every other people who want to save money by, for example, using promo codes or location-based promotions.
Those two branches are completely different regarding strategy and of course target. So I had to separate them in terms of information architecture and also style but at the same time make both recognizable as one brand.
Snag It for Merchants
This branch had to be very descriptive in terms of features, how everything works and what benefits it provides to business owners.

Snag It for Customers
Main goal of that branch was to get new people use the product. Make them fall in love with idea of saving money thanks to special deals provided by Snag It App. And of course make people download the app. We wanted to skip what's not needed on that landing page. Keep it simple, obvious and have one clear call to action.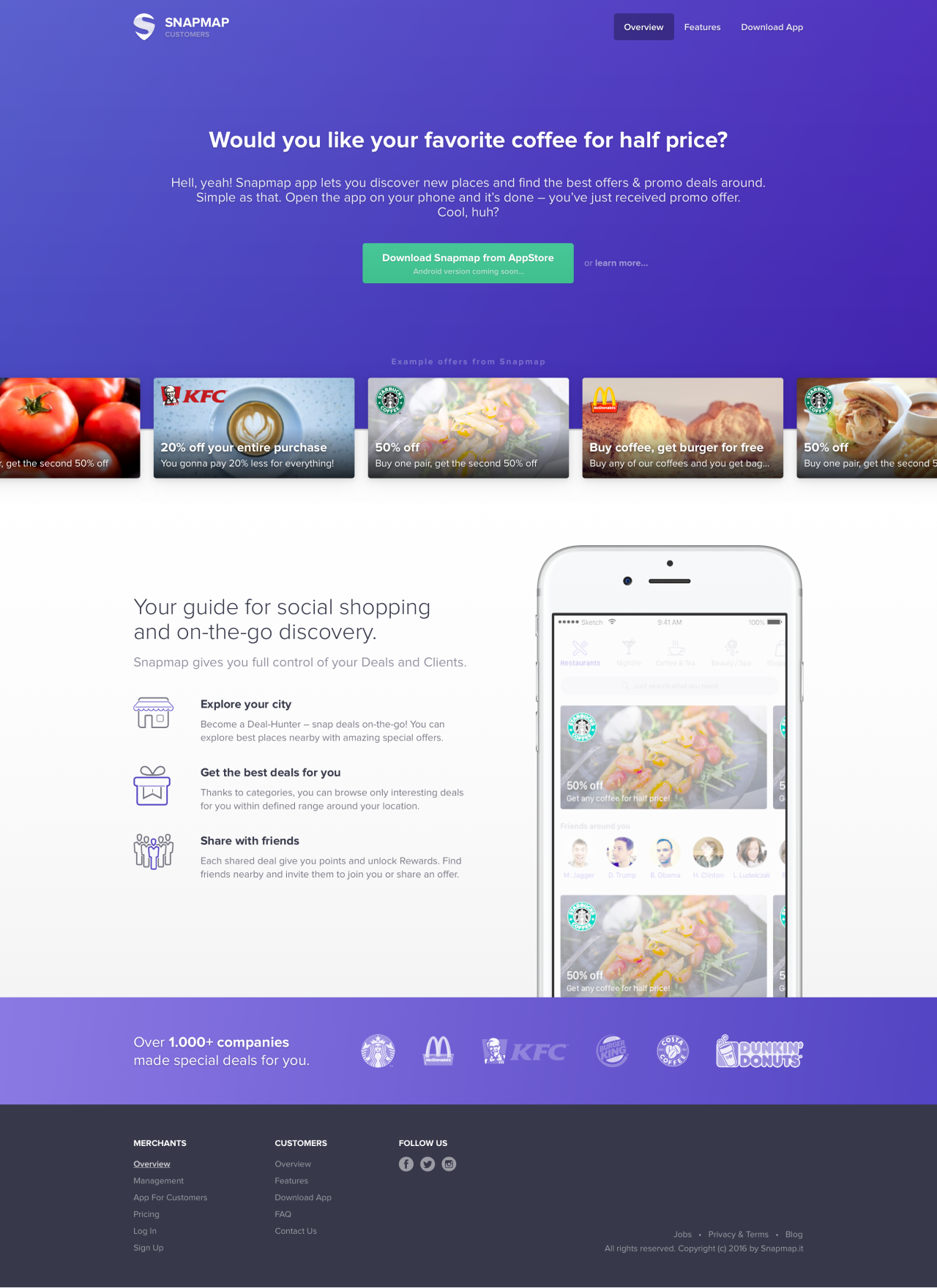 Merchant's Dashboard
It's a section for business owners where they could setup campaigns, deals, promo codes and ads. But it's not only for creating content, it's also for checking health of their business and performance of currently running promotions. Metrics supposed to give you quick overview on how things are going. It was the main view for Merchant.

Adding New Deal
One of the main reasons for business owners to use dashboard is possibility to add Deals. Deals are special offers for customers displayed on Snag It mobile app. Each deal would be represented as a tile built with promo image, business logo and a bit of text. Thanks to mobile preview in the Dashboard, business owners can add offers by themselves, without asking designer to find the right photo and making sure it will look ok on smaller devices – Snag It simplified this process for business owners.